Uri Geller to reveal when we'll say goodbye to the pandemic
At 3pm on Friday 13th November, Uri Geller will reveal his prophecy of when COVID-19 will end as part of an interactive webinar hosted by ActionCOACH Bolton.
Geller also promises to share:
keys to gain strength and stay strong in the run-up to the COVID-19 end date
tips to give you a winning edge
the mindset skills that contributed to his own fame and fortune!
He joins as a guest on the webinar series to share his own insight as part of ActionCOACH Bolton's bi-weekly 'Big Friday Finish' events. One of the world's most investigated and celebrated mystifiers, Uri has led a unique life shrouded in debate, controversy and mystery. He's also related to Sigmund Freud!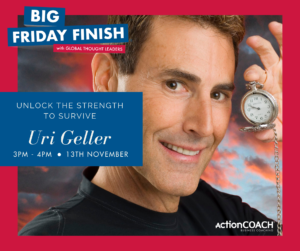 The Big Friday Finish sessions were originally available exclusively to ActionCOACH franchise partners throughout the COVID-19 pandemic, but the world's number one business coaching firm has decided to open up the thought-provoking webinars to the wider business community. Giving business owners and leaders the chance to further their learning and remain positive during these uncertain times, the Big Friday Finishes attract some seriously big names.
So far, the sessions have seen appearances from Britain's Sales Trainer of the Year, Andy Bounds; Daley Thompson's former coach, Frank Dick OBE; 'How to be Brilliant' best-selling author Michael Heppell; world-leading body language authority Mark Bowden; and many more global thought leaders.
Paul Limb from ActionCOACH Bolton said: "This is a huge coup for us and we are delighted that as franchise owners we can now give the wider business community access to the stellar line up of speakers we have on board. Uri is sure to provide viewers with a thought provoking, enlightening, engaging speaker slot and believe him or not, we can't wait to see what he has to say."
Uri Geller is the latest to join the all-star line-up, discussing the power that lies in our mind and how it can influence and impact our business and life. He'll draw from his incredible life story to share insights on how to create a killer first impression and a host of other critical life skills. In a fast-moving dialogue, the audience will also have the chance to fire questions at Uri.
ActionCOACH UK Managing Director, Julie Wagstaff, is thrilled to have this global superstar as the first guest to appear on the webinar now The Big Friday Finish is opened up to help the wider business community.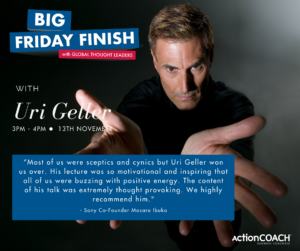 "We're excited about having Uri speaking at our latest Big Friday Finish. He's a global phenomenon and I'm confident his mesmerising personality will captivate our audience. Not only will he entertain us, but he can also offer valuable advice to people who are up against further challenges as lockdown 2.0 is underway – with his own unique style, of course."
Uri Geller has pledged to give his speaker fee to help sick children and Julie Wagstaff has pledged to donate all ActionCOACH's net income from the event series to the ActionCOACH Foundation, which gifts entrepreneurial school children a business education for life.
Uri will appear on the Big Friday Finish 3-4pm on 13th November. To find out more about booking your place which is free for ActionCOACH clients and an investment of £60 inc. VAT per person for non-clients, visit: CLICK HERE TO BOOK
If you are an ActionCOACH Bolton client, contact the office or check your email for a special code to allow you to book for free.